Do you know? Over 36% of adults in the USA use any of the taxi applications!
Taxi has once been a luxury but now it is more like a day-to-day need
Being the rush and, stress-driven society most of the people use taxi or cab to travel around either, because of Monday morning blues or just to minimize the effort.
Taxi service attracts a very large set of people both as riders and job seekers. Also, it helps in saving money.
Mostly, students prefer to become an employee in any of the taxi service apps for a part-time job. But developing these apps are not that easy for a mobile app development company. They need to take care of many things which makes it even more important to hire mobile app developers who know how to meet people's demands.
People living in Urban areas are more tentative to use these services. Ride-hailing companies have made a lot of efforts to extend their services to rural and remote areas.
In the USA, with taxi providers in many cities, you are never left without a ride. Find a cab anytime, anywhere!
But because of the many options available, it is really difficult to book a taxi with a click. It is a bit tricky to decide which taxi app is the fastest in terms of accepting the riding request or how fast it is in making you reach your destination or which app is the safest and which android app provides the most affordable rates.
It is interesting to see that every app has some unique properties which make them distinguishable. Consequently, here is the list of some of the best taxi apps that are performing well despite heavy competition and you can easily count on them.
1. Lyft Taxi App
Founded in 2012, San Francisco originated company – Lyft is currently operating in more than 640 cities in the United States with a rating of 4.9 in the AppStore and hence considered the second-largest ride sharing company in the US.
It will be no wrong if you say this app as an All-in-one service app. 
The ride sharing company is available to 95 percent of the US population.
It's developed the best android mobile app for people doing car-pooling as you can fix the time for availing the same cab with the same group of people that you want. 
It also offers a wide range of taxis in terms of size for the rider.
The company also allows payment through the app.
It also allows riders to schedule their rides up to seven days in advance.
Its service is primarily focused on college, university, and corporate communities.
It is valued at around $21 billion to $23 billion currently.
2. Gett Taxi App
Founded in 2010, Gettaxi has become the most popular taxi app in the USA. The ride-hailing app's strategy is to mainly focus on corporate ground transportation.
It has gained so much popularity because of its affordable rates.
It is currently operating in more than 120 cities across Israel, the USA, the UK, and Russia.
The mobile app development is compatible with both platforms – Android and IOS
The App will soon launch a new feature in New York that gives the option to Carpool with other nearby passengers to save time and money. 
Carpooling is an effective way to reduce traffic and save a lot of time traveling. This feature results in adding more new users to this app
One of the most unique features of the ride-sharing app is that it allows the rider to book a ride 2 weeks prior to the traveling day.
Based on Corporate Ground Transportation, Gett wants to build an Empire. 
Gett raised more than $800 million in total funding.
It provides the user with a most high-grade app and excellent high-end technology.
The Gett income model varies from nation to nation. It normally includes any of these three models: 
-charging monthly dispatch fees from taxi drivers
-charging a per-ride fee from drivers
-charging fees for corporate rides.
This is one of the modern taxi services apps that turned the idea of the people about the taxi.
3. Easy Taxi App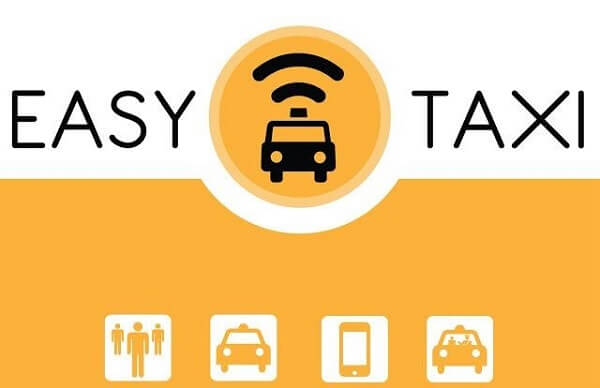 Founded on 24th June 2011, as the name suggests, easy taxi is a modern design combined with a dynamic interface and calculation of fare and an improved GPS algorithm.
More than 20 million users from 420 cities in 30 countries use Easy taxi.
The most unique feature of the taxi app is that it carefully selects the drivers so you can be sure that only the best drivers with experience and good reputation become a partner of this service.
It allows the customer
-to book a taxi in an online mode.
-creates route lists.
-saves travel statistics.
-tracks the movement of the car on the map.
User-experience is the most important factor for this ride-hailing app.
This app works in both Android and iOS operating systems.
4. Uber Taxi App
Officially launched in 2010, UBER is the app that changed the face of transportation.
Uber is currently operating in 84 countries and 800 cities with synchronization in Driver Apps and Riders App without any glitch.
Reading Recommended-
The reason behind Uber's success is a large number of high-quality features provided by the company and also the proper balance of affordability and profit for driver and company.
This can be used in case of emergencies the riders can press the panic button that sends a notification to the nearest police station.
One of the best features of the Uber app is its availability of multiple modes of payment like a credit card, cash, mobile wallets, etc.
The riders of Uber can directly pay for their rides by adding money into the app wallet to cut down the hassle for making payments with cash and running out of chances
Uber makes it easy to travel with friends and families. The Split feature of Uber allows you to share the fare and ride with friends and families. You can travel with a maximum of three people.
The app also started mobility transportation by introducing electronic bikes and scooters that are available at different locations in a city.
5. Via Taxi App
The taxi services app has developed its position among heavy competition due to its affordability. This app is the best choice for the people who want low fare but comfortable rides.
It is a real-time ridesharing mobile application that is based in New York, USA. It was established in 2012 by Israeli business people.
The service assumes that passengers will part their rides with others going the same route. Just order a taxi and you will be picked up at your place in a few minutes. Then, a driver will leave you off within a few blocks of your demanded address.
Via operates its ridesharing services in New York, Chicago, Washington DC and London, Amsterdam, Berlin, and Milton Keynes through Viavan.
It serves in more than 20 countries globally including the US, UK, Canada, Israel, Australia, etc.
Via offers a ViaPass in several cities where it operates. ViaPasses are periodical agreements that allow customers to ride numerous times per day on a weekly or monthly basis.
Via's self-sufficient technology is well inspired by the company's past in ridesharing, with multiple passengers using a self-driven vehicle.
6. Wingz Taxi App
Wingz originally known as Tickengo was founded in April 2011 in San Francisco, California.
It is a mate-to-mate transportation network that provides private, scheduled and fixed price rates.
It currently operates in 30 major cities in the United States. The most unique feature of this app is that it allows you to choose your driver and it allows users to build a list of their favorite drivers for future bookings.
Wingz can be accessed through both Android and iOS platforms.
Users can book a ride from 2 hours to up to 1 year in advance. The app also decides for luggage and over-sized bags.
It also provides its riders with a $1million insurance focusing on safety.
7. Curb Taxi App
Being one of the most popular taxi apps in the USA Curb places itself at a different position from other ride sharing apps.
The app is cheaper than calling a taxi on the mobile and secure than catching a car on the street.
Curb is operating in 60 different cities worldwide like New York, Washington DC, Boston, Chicago, Miami, and Las Vegas.
Unlike other ride sharing apps, it allows users to book professional and insured drivers.
With a rating of over 4.5 on the App Store, it provides users with high-end facilities like a wheelchair, AC, music, and baby-seat.
Riders can do payment through cash, credit card and even through the app. It allows users to book rides 24 hours before departure time.
Let's Conclude!
Henceforth, yet with the availability of a large number of ride-sharing apps, you can decide which one is perfect for you as every app has some of its unique features. Now you might know what your choice for tomorrow's means of transportation will be to go to your destination. However, thanks to all these apps they made our life much easier by providing us taxis on our doorstep and so affordable. After thorough research over them, you can decide what features you want to have in your App.
What is your best and favorite Taxi App? Share with us in the comments.
Are you looking to create an app like one of these? Then, you're in a perfect place. We are a Custom Mobile App Development company with 10+ years of Experience holding our legacy within the hands of our expert developers. In our enthralling journey, MavenCluster have created numerous apps and the majority are ridesharing ones from the entrepreneurs and businessmen from round the web.
We will not only assist you in developing an android or IOS app but also will consult you to boost up your business.