Agile and fast
Applications built using the MEAN stack framework are highly agile and fast. They deliver an excellent user experience with the help of top-notch features from the latest technologies.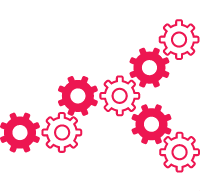 Compatible
MEAN Stack is based on JavaScript, which allows it to be compatible with different languages. Hire our MEAN stack programmers to get best-in-class service.
Flexible
The MEAN stack framework is highly flexible. It lets you build, test, and use the application without much hassle.
Cost-effective and Reusable
MEAN stack requires fewer developers which cuts down the cost of hiring. It is also reusable due to the non-blocking architecture of NodeJs.
Amazing User Experience
MEAN stack helps in creating user-friendly and dynamic applications. Hire our dedicated MEAN stack developers to create highly agile apps.
Security
MEAN stack reduces the security concerns that arise in developing applications. It uses HTTPS interface to improve security.